By Muhammad Dalhatu
So, what is Search Engine Optimization (SEO)? According to the Internet of things, it is the next best thing to make you trend online. Makes you wonder what the first best thing is right? Anyway, SEO is essentially the mix of strategies used to improve the quality and quantity of website traffic to your website from search engines. SEO targets unpaid traffic rather than direct traffic or paid traffic.
In NAMIP's recent 2-day SEO Strategies Workshop held on July 5 – 6, 2023, Adam Oxford of Area of Effect guided us as we explored in-depth SEO strategies for news organizations. Adam provided an overview of SEO content strategies and the technical aspects of implementing SEO for your online platforms.
On the first day of the workshop, Adam focused on SEO content strategies, where we delved into the key areas' media organizations can optimize their content effectively. Here are some of the most important things to consider.
The importance of keywords and how to implement them.
Publishing valuable content that answers questions for users
The Experience, Expertise, Authority and Trustworthiness of your website.
Using multiple tools such as Google Analytics, Search Console, Ubersuggest, and Semrush to analyze the traffic of the website.
Let's go over these!
The goal of SEO is to hone your audience funnel and turn a casual user into a loyalist. These are customers who are aware of your brand and engage with your website religiously. Readers only turn to you if you are consistently adding value to their lives. Thus, displaying the valuable aspects of your content at the top not only keeps them engaged, but also makes them avid readers. This is because only 0.63% of people click to the second page of the Google search.
While there are many misconceptions about SEO, Adam helped to debunk those myths such as how to implement Keywords and tags on your webpage. To clarify this, keywords and tags should appear naturally. They should not feel forced. Both Google and users can detect spammy articles, which reduces user engagement and reduces your ranking on Google.
Context always matters – How you frame your content matters. That is why it is important to publish good journalism and cornerstone content also known as "explainer content" rather than publish breaking news. Google wants to be able to provide users with answers to their questions.
While keywords and tags are important in the content you create, the most important aspect of your optimization should focus on these thematic areas for Google. This includes Experience, Expertise, Authority and Trustworthiness (EEAT).
Experience: Have you covered this subject before
Expertise: Do you have the credentials to be able to write about this subject
Authority: Is your site a reliable source of information
Trustworthiness: Site quality – Working internal & external links as well as reducing number of pop-ups on your site.
Here are other practical tips to consider when you are optimizing your website.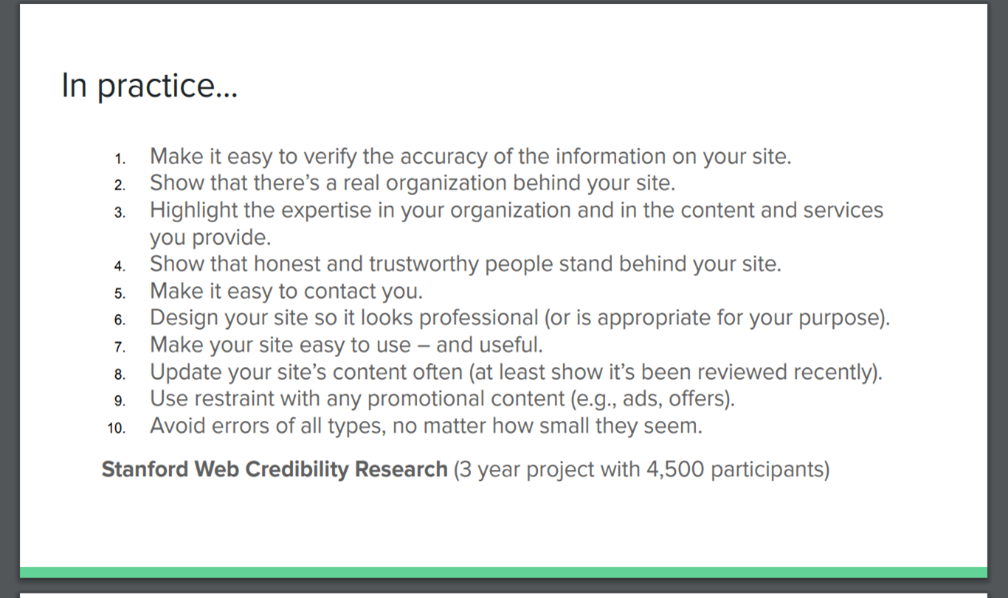 The key site quality indicators you should always keep in consideration include:
Low text to ad ratio. Adverts should be above the fold on mobile devises –
Ensuring you have high resolution featured pictures.
Short titles that fit to screen size while also considering mobile users.
You can find other google quality guidelines here.
According to Adam, News SEO is unlike other SEOs. Keywords are highly contested, and users do not always search for news. This is why you should always consider what users are looking for by analyzing current trends using tools such as Google Search Console, Ubersuggest, and Google Trends. While Google remains the most important sole source of news for readers, it is important to make Google part of your audience because it segments what it considers important for readers. It is vital to make it easy for Google to understand where it needs to file your articles and website.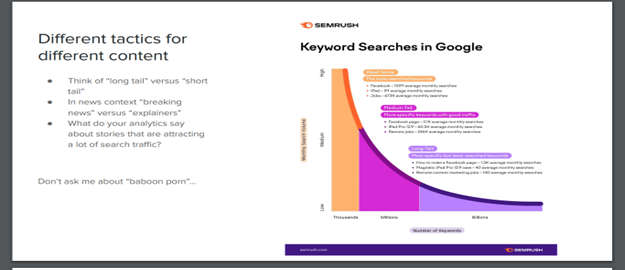 On the second day of the Workshop, Adam discussed the importance of using these tools to perfect your website.
SEO plugins and tools such as Yoast, Semrush, Google Analytics & Search Console provide you with practical data on 'Click Through Rate,' what terms people used to find your site and the overall level of user engagement on your website. By interpreting this data, you can also consider how you should and should not be ranked based on the aims and goals of the sites.
If you are not convinced, here are 4 other reasons why you need an SEO Plugin as discussed by Adam.
SEO plugin will give you an idea of how a story looks in a Search Engine Result Page (SERP)
You can change headlines and images for specific platforms.
An SEO plugin will generate a news sitemap (on paid tiers only). This is a blueprint of your website that helps search engines find, crawl, and index all its content. You can search for "site:yoursite.co.ng" to view how your site is listed.
An SEO plugin will add Schema also known as "structured data" to your page headers. Schema helps to understand if you should appear in "rich results," like a movie result with star rating or a recipe.
While Google and its search algorithm are constantly changing, the most important aspect of using SEO tools is to understand when traffic is coming to your website, from what region and what type of content you post drives the most engagement. This data will help you understand how you can perfect your content while increasing traffic and engagement to your website. The last aspect to take into consideration is finding topics that are trendy on a consistent basis over time rather than topics that trend once or twice on a given day.  A key section to pay close attention to is related queries to trends and longer search terms people are looking into about your site.