By Muhammad Dalhatu
The NAMIP monthly Community Call Series for July was facilitated by NAMIP's Program Assistant, Muhammad Dalhatu. Muhammad led a discussion introducing Google AdSense as we gained greater insight on how to monetize news websites through Google AdSense. The session looked at the intricacies of registering for Google AdSense, the major benefit of placing ads on your website as well as a combination of various tools that can be used to optimize website monetization.
Ads and Adsense
What's the difference between Google AdSense and Google Ads? The former, Google AdSense offers a way for publishers to earn money from their online content. AdSense works by matching ads to your site based on your content and visitors. The ads are created and paid for by advertisers who want to promote their products. While the latter, Google Ads is an advertising platform developed by Google, where advertisers bid to display brief advertisements, service offerings, product listings, or videos to web users. It can place ads both in the results of search engines like Google Search and on non-search websites, mobile apps, and videos.
As we delved into Google AdSense registration processes, Muhammad highlighted the benefits major of AdSense, which include:
Revenue generation, though earnings can vary due to factors like ad relevance, seasonality, and changes in user behavior.
Wide range of Ad formats – Experiment with ad placement to find the most effective positions for higher click through rates (CTR).
Support and optimization tools such as Google Analytics, Google Search Console, Yoast, and Semrush. These tools provide you with important insight to track ad performance, user behavior, and earnings using AdSense reports and analytics. Using this data helps perfect your ad strategy and improve revenue.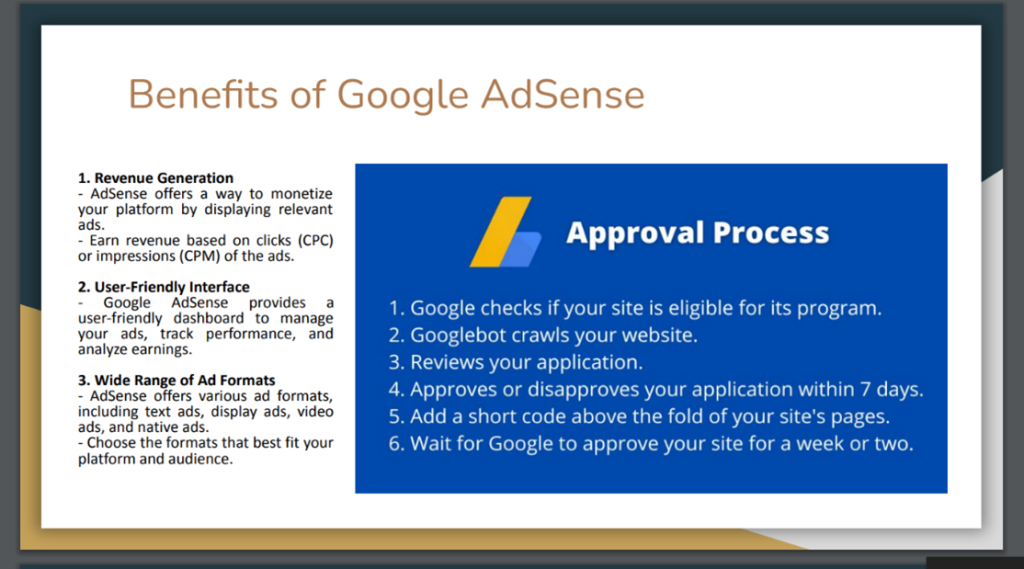 Some aspects to consider is that AdSense has policies that publishers must adhere to. While AdSense allows some customization options, you have limited control over the specific ads displayed. In some cases, irrelevant or potentially objectionable ads may appear. AdSense revenue is primarily driven by organic traffic. Increasing traffic through Search Engine Optimization (SEO) and content marketing strategies is essential for higher earnings. It is important to publish high-quality, engaging content to attract more visitors and increase ad engagement.